Media Blasting          Before and After Photos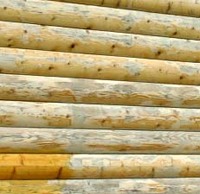 Polyurethane after about 3 years clearly offered no protection for the log siding.  See the same wall below after corn cob blasting.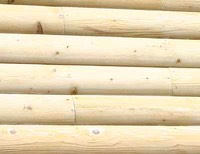 T-111 Siding during before and after corn cob blasting.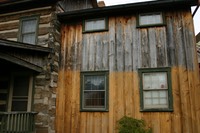 Solid non transparent stain during corn cob  blasting removal.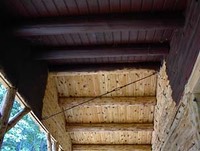 Relax and enjoy your day while we do all the work.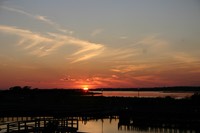 Media Blasting using corn cob grit, recycled glass media, and other types of media is a safe effective way to remove stain/paint from your log home or wood structure without the worries of water infiltrating your home. 
E

nvironmentally friendly

S

afe for plants/shrubs.


P

repares wood for proper absorption of stains.




R

emoves Mill glaze allowing  stain to penetrate logs.

N

o Water infiltration




C

lean like new surface 

B

iodegradable

R

ecycled Glass Media/Corn Cob Grit/other media

M

ake great mulch from the leftovers-consistency of beach sand.

L

ess abrasive than sand blasting non damaging to your wood.
You will have a nice clean surface which allows for proper application of your Preservative treatments, stains, and caulking.
Corn cob blasting has been performed successfully by us for over 10 years. We have had great success and hundreds of happy customers after seeing the results of the corn cob/glass media blasting removal process.  Corn cob blasting is extremely effective in removing dark stains and discoloration from any wood surface.  
Preservative treatments are for preventing log rot and bug infestations of wood eating insects.  Applying a preservative treatment effectively requires a clean dirt free and stain free surface.  If you have stain on your home it will need to be removed before a preservative treatment will work properly.
Pressure washing is an alternative to corn cob blasting or glass media blasting your log home if you  are not concerned about water leaking into your home through the windows, doors, and log walls then media blasting will work for you.  
Click here to view before and after photos of media blasting in our photo album.
We offer Top Quality Log Home Chinking, Corn Cob Blasting, Glass Media Blasting, Staining, Log Home Repairs, Restoration, Preservative Treatments and Partial or Full Turn Key log restoration work.   For more information on our services please contact us at
336-325-9986 or email us at info@bbbloghomes.com  
Do you need to purchase products for your log home?  Click Here
Copyright 2011 - Beamer's Better Builders
Photos and Videos on this website may not be reproduced or republished without express written permission of the Webmaster/Owner